GosExam briefing conducted by Dr.Amit Kamle for Final Year MBBS students at Immanuel Kant Baltic Federal University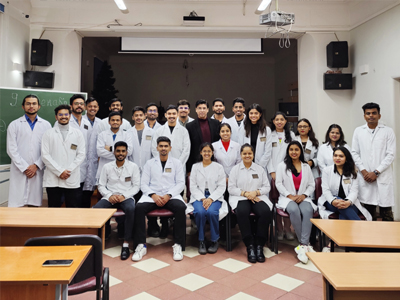 Kaliningrad, Russia: The GoSExam or State Exam is a State Final Certification to test the student's knowledge in specialized subjects and graduate's readiness as a future "Doctor". The final certification is carried out in accordance with the requirements of the educational standard. Dr.Amit Kamle conducted a meeting with the final year MBBS students of A.K.Educational Consultants at Immanuel Kant Baltic Federal University, Russia. Dr.Amit Kamle guided the students with detailed information on:
How to prepare for the Final State Exam?
How the Final State exam will be carried out?
List of documents those are required?
Disciplines which are included?
How the results are announced?
Sankalp Gaikwad a final year MBBS student said, "The informative session by Dr.Amit Kamle sir was very helpful. Not many educational consultancies and agents in India are aware about these important details. Also it is conducted well in advance so I have enough time to prepare myself."
Sonali Sardar added, "The GosExam is very important for every final year MBBS student in Russia. The information session by Dr.Amit Kamle sir helped me and I am preparing for it now."